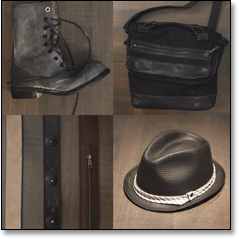 Sartorial force that you are, you're probably familiar with Nice Collective by now.
Since 1997, they've been outfitting stars like Kanye and Brad in things like hybrid shirt jackets and deconstructed tees. You've also probably noticed their threads on some of the city's more stylish bike messengers (their cropped trousers, for instance, are a welcome alternative to bike shorts).
Now the brand is ready to branch out into footwear and accessories, and we think you should branch with them.
Introducing
Nice Collective accessories
. The debut Fall '08 line hits the shelves of Rolo, the Archive and Villains Vault as early as this weekend.
Not only do the suede hats and leather rings in the new line look good, most of them have a good little backstory as well. (Always a nice bit of conversational weaponry.) Take the reversible leather
Blitz Belt
. It's embedded with peep-show tokens that were dirt-distressed by burying them in the designer's backyard. Or the leather messenger bags. They were made extra durable by the addition of airline cables in the strap.
But maybe our favorite of the lot are the boots. Nice partnered with the oldest combat boot-making facility in the U.S. to bring you a meticulously crafted yet rugged piece of footwear. By the time they reach stores, no fewer than 120 hands will have worked on them.
We suspect a few more hands will touch them before their days are done.