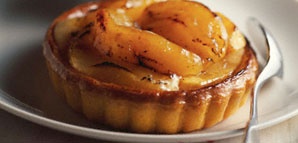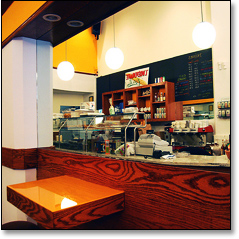 When it comes to pizza, you don't discriminate. Thin crust, deep dish, meat lover's—they're all good.
And now you can add French to the mix.
Opening tomorrow,
Bonbon Patisserie
becomes your sure-fire spot for
flammekeuche
—the type of pizza that's practically an art form in Alsace, France.
Brought to you by a talented group of Frenchmen from Plouf, Café Bastille and Garcon—and taking over the Kimi's Pizza space on Kearny, steps from Belden Lane—Bonbon marks the expanding reach of San Fran's little French Quarter.
Here you'll find the traditional Alsatian pie made with bacon, onions and creamy fromage blanc. You'll also get pizzas of the day—chicken or smoked salmon—plus a changing menu of open-faced and pressed sandwiches, croque-monsieur (hot ham and cheese) and quiche.
It's more of a takeaway spot, for sure. Stop in the morning for coffee and croissants. And if you like the sweet stuff (or know a girl who does), pick up a
Chouchou Tart
—a flaky chocolate or fruit tart with the house's signature crispy caramel bottom.
If she asks where you got it...just tell her you have a French connection.