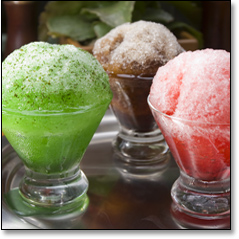 Ah, summer vacation—always makes you yearn for that time long ago when you actually
had
summer vacation (jetsetting has its charms, but so did the playground). 
Also makes you yearn for some
Snow Cone Mojitos
right about now.
Thanks to an industrious chef at the
almost
-beach-adjacent Fairmont Miramar hotel, you and your fellow nostalgics can now stroll into the secluded Koi Pond Lounge & Garden on the hotel grounds and order up the next grand entrant into the
alcoholic-version-of-a-childhood-favorite
genre.
The rum-soaked specialties are on the menu in two flavors—the regular (aka, mint)
Snow Cone Miramar Mojito
and the pomegranate—alongside new snacks like
Trio of Fries
(sweet potato, truffle, parmesan) that arrive in sand pails. But there's a third option available for those who know to ask for it, so feel free to order a
Root Beer Snow Cone Mojito
for dessert. If you're wondering what brought on this inspirational feat, the chef looked back a little further than his childhood for all this—he was thinking about 100 years ago when the Santa Monica Pier was born.
Didn't know they had snow cone mojitos back then, but more power to him.