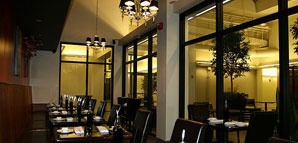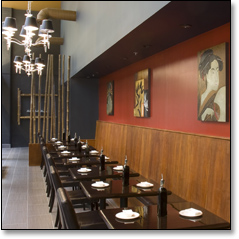 A go-to tailor, a connection at City Hall, the address of a new under-the-radar sushi restaurant—certain items are required in every respectable arsenal.
As for the under-the-radar-sushi part:
Origami
opens today downtown.
A low-key stop on a nondescript corner, Origami feels like a secret even if it doesn't stay that way. No matter where you are in the dining room—a U-shaped cluster of corridors anchored by a sushi bar in the middle—you never feel like you're quite
in
the room, so it could work well for a discreet date (we wouldn't pry about why discretion is in order)…or an even more discreet bit of sensitive corporate dealings. (Again, we won't ask.) But whether your needs are romantic, tactical or both, you can woo (or distract) your tablemate with a quirky Japanese menu complete with international influences—like the
Italian Tuna Roll
or the
Lobster Ravioli with Blackened Diver Scallops
—that go beyond the usual sushi and sashimi. (Though they have all that, too.)
Of course, if your needs are less covert and more simple (martini, barkeep), just drop into the adjacent lounge around the corner and take a seat against the wall, where you can monitor the comings and goings of downtown's workers...and lurkers.
Just because you can be covert doesn't mean you'll let anyone else get away with it.