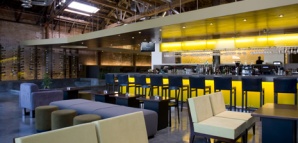 When you want something done right, as the saying goes, you do it yourself...martini in hand.

So you won't mind cooking up your own meats at a sleek new Korean barbecue spot (plus lounge) in Culver City—Gyenari opens today.

Once seated in the main room (booths on either side are best), roll up your sleeves and get to work grilling your proteins over the heat at the center of your table. (A down-draft system keeps the room smoke-free—nice touch.) Of course, if you're not into doing all that work, the wait staff will help you out...otherwise you might not even notice their presence, since the owner claims to have trained them to stealthily serve "ninja-style."

If you want to avoid the grill thing entirely, stick to the front lounge, where Korea gets California-fied, for lunch, dinner or happy hour. You can follow your Gyenari Martini with Edible Orchid with the Jeon Jeon (small Korean pancakes with applewood bacon and white cheddar) and some Paper Fried Chicken. And for dessert, warm Green Tea Cake Donuts arrive with a raspberry-buttermilk glaze for you to dip them in.

Okay, so you still have to do a little work.