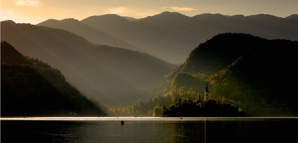 Croatia has been getting more than its fair share of Adriatic holiday buzz, but tiny Slovenia—just to the north, wedged between Austria and Italy—gets our nod of approval. (Not to mention the nod of European nobility.)

On Slovenia's idyllic Lake Bled, surrounded by the Julian Alps, sits former Yugoslav president/dictator Josip Broz Tito's onetime sanctuary: Vila Bled, a Dalmatian-marble palace that puts Camp David to shame. As a presidential retreat, it's hosted the likes of Liz Taylor, King Hussein of Jordan and Prince Charles—it's essentially northern Yugoslavia's very own Xanadu.

Today, Yugoslavia is long gone, but Tito's former digs have been renovated into a Relais & Chateaux hotel, and it's ready to spoil you, Slavic-style.

While its 20 suites have kept the 1950s charm, the perks are distinctly 21st-century—from the just-opened spa (complete with Finnish and Turkish saunas), to the paragliding capabilities over nearby Lake Bohinj. But with locally produced wines and the first Slovenian Michelin-starred chef manning the kitchen, you may never want to leave your villa.

Or the Balkans.