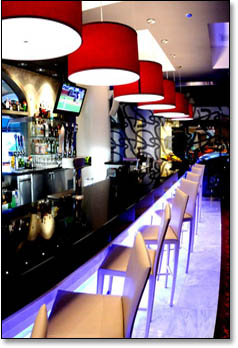 It happened again last week.

She wanted Italian food.

You wanted a luxury supercar showroom.

You compromised with Chinese and a Saab dealership.

Good news: You don't have to settle anymore. (And you can take back that Turbo X.)

With a little help from Lamborghini Las Vegas, the Palazzo's newly opened Dal Toro Ristorante has brought in the sort of eye candy you normally have to watch a full day's worth of Beverly Hills-set '80s movies to see. (Or you could just visit your own garage, but that's cheating.) The two-story gallery/restaurant, valued at a cool $30 million, has a fairly insane list of accoutrements, including: glass chandeliers from a Venetian island, a "Charging Bull" statue like the one on Wall Street, six shiny Lamborghinis, one gleaming Bugatti and an outdoor patio bar with fountains.

Then on the lower level, you'll find 20 more supercars, from Saleens to Spykers to McLarens. And of course, more Lamborghinis.

Our advice: Savor your Calamaretti (baby squid) and Spaghettini fra Diavola (spaghetti with Maine lobster) from the one-table dine-in wine locker, then sip your red from the VIP booth. This will also be the best spot to absorb the space's Ultra Lounge Saturdays, which will bring added sensuality starting in August.

Because obviously what this place needs is a little more sex appeal.