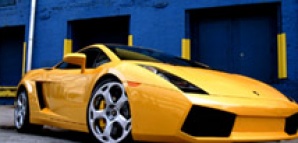 You love NYC, but it gets steamy in the summer—and not the good kind of steamy. Everything smells like stale urine, the humidity squeegees your shirt to your chest by 9:20, and the bars are empty because the hotties have skipped town. It's time to get the hell out of dodge, but there's gotta be a smoother way than the Jitney, Hertz, Tel-Aviv or the NJ Transit...
With ZipCar's car-share, pay a $50 annual fee to reserve your Prius, Mini-Cooper or BMW online ($12/hr or $95/day on weekends—you don't pay for gas). Walk to the E-Z pass-ready car (they're conveniently parked all over the city), swipe your ZipCard (mailed a week after signing up) over the windshield—and off you go.
For a step up, Action Car Rental rents cooler wheels like Porsches, Mercedes, Jaguars, Escalades and Hummers, for $200-$400 a day. Insurance can be purchased for $20-$30 if your credit card doesn't cover it.
Still looking for more? Gotham Dream Cars has a fleet of Ferraris, Lamborghinis and Bentleys ($995-$1,750 per day), but the catch: You need your own insurance because credit cards won't cover "exotic" cars ($500 gets you six months from somewhere like Geico). It's a hassle, but for a ride this sweet, it just might be worth it.