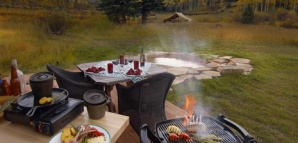 You're a big proponent of authenticity—especially when it comes with an upgrade.

So we think you'll like it here.

Nestled in the gold-country Rockies, Dunton, Colorado spent the last century as an abandoned mining outpost whose saloon had long run dry. But the folks at Dunton Hot Springs Resort & Spa have breathed new life into this ghost town—where you'll have the most glammed-up Western weekend this side of Sundance.

You'll stay in a handcrafted log cabin built by the original 19th-century miners—now restored with Moroccan rugs and heated slate floors. You'll dine at a rough-hewn communal table—on local lamb and organic chanterelles. And you'll end the night at a saloon where Butch Cassidy etched his name into the bar (it's legible, so it must have been early).

From your luxe lodge, you'll venture out into the Rockies to raft through rapids, fly-fish the Dolores River and bathe in bubbling bicarbonate springs. Just make sure to leave time for a nice long massage in the Old Town spa when you get back to camp.

And if you'd prefer a great big Western retreat, bring the posse. The entire town is bookable for you and up to 42 others.

After all, there's nothing like multiple partners.