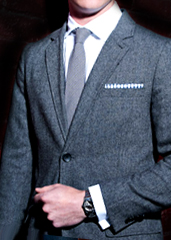 Today's shaping up to be another beaut. (The Indian summer is strong with this one.)
But let's not be naive, this weekend marks the official coming of fall—and with it, your need to find something made of European wool to wrap around your collar.
Here to meet that need:
Fifth & Brannan
, a little upstart of a handmade shirt, tie and pocket square operation, cutting and sewing everything right here in sunny San Francisco, available online now.
These are the shirts and ties you'll be reaching for when you're in desperate need of feeling the loving touch of soft, straightforward, trim garments. Or in desperate need of making the right impression in a client meeting/happy hour session. The shirts come in three collar types (semi-spread, cutaway and club) and are cut in 100% Japanese cotton. The ties are what you'll want to stock up on for the impending fall: woolen checks and plaids all sourced from European mills. Even the pocket squares are handmade here in SF.
Designed by a fresh-faced FIDM alumna with a penchant for detail work, the line is in its infancy—launched mere weeks ago, on the heels of a wildly successful Kickstarter campaign—but big things are in the works. Namely, a winter shirt collection and a full collection to be rolled out in spring 2012.
But "spring" is a relative term around here.