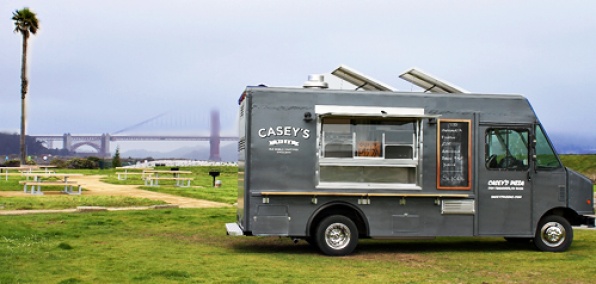 Of life's simple pleasures, pizza ranks pretty high.

Of life's complicated pleasures, filling a hot tub with champagne, sideline reporters and miniature penguins ranks pretty high.

Let's keep things simple today.

Introducing Casey's Pizza, a mobile treasure trove of a pizza truck gracing our fair streets with fresh-from-the-oven pies and slices, rolling out this week.

You might be wondering what it took to finagle a 1,900-pound, gas-fueled, brick-lined pizza oven that heats to roughly 700 degrees (like the one at Pizzeria Delfina) into a former uniform truck from a naval base in Coronado. But we'd encourage you to leave those engineering nuances to the experts and focus on the pie.

You'll be able to count on classics like the Margherita, the Funghi and the Zoe's-pepperoni-topped Haight. But there'll also be a specials rotation of anything from a bacon-kale pie to an arugula pie with La Quercia prosciutto to one made with Fatted Calf's fennel sausage.

In terms of scoping this guy out, look for a sophisticated black number with hand-painted signs. After you order, you can hang out and eat at the fold-up oak counter on the side of the truck.

They're starting out at Off the Grid. But soon you'll spot them in the FiDi during lunch and in Hayes Valley on weekend nights.

It's almost as if they're following you.