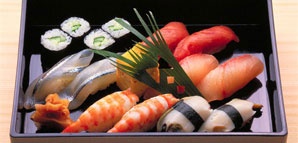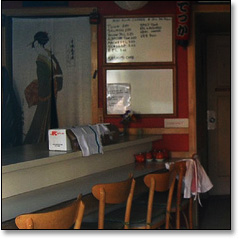 You're always on the lookout for that next great sushi spot. Trouble is, there hasn't been a new one in a while.
And you're hungry.
Let us suggest
Tekka,
a time-tested mom-and-pop that's like a trip to your fussy Asian aunt's house.
Yoshimi and Nobu (no, not
that
Nobu), the ma and pa behind this 10-seat Inner Richmond izakaya, don't make it easy for you to love their restaurant. They open on a whim, they're closed on Saturday and Sunday, and they require that you abide by 10 rather cranky "House Rules" posted on the wall. In short: They only take cash, seatings are at 7 and 9:30pm, no forks or soda, no carry-out, no complaining.
But if you choose to persevere, you'll be rewarded. Nobu's fish is fresh, tasty and generously cut, and Yoshimi's small plates are meticulously prepared.
Since most of the menu-board is in Japanese (and the general willingness to explain things is…not that willing), your best bet is the
Omakase
, which will get you jumbo slabs of sashimi as well as specials like slow-stewed pork belly and grilled asparagus.
And actually, you've got some time to practice your order. True to form, Nobu and Yoshimi are on vacation until next Thursday.
Teaching lessons in hospitality, from what we hear.