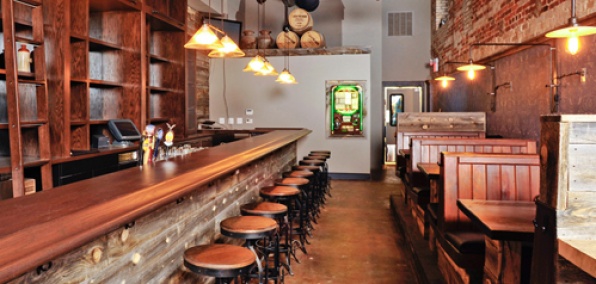 You've got nothing against DJs and dance floors. Or bars with 75 TVs, four deep with Packers fans.
But sometimes, you'd just like an escape. Preferably with a library of 50-plus whiskeys. And maybe some deviled eggs.
A place like the
Boundary Stone
, a cozy pub opening next week in Bloomingdale where you can while away the winter.
This is the kind of lived-in-looking bar where you can catch college football on the two TVs, or arrive early for a
Maryland Crab Roll
in the alley-turned-courtyard. And you should. But what you'll really want to do is pick a chilly, maybe rainy October night and hide away in here for hours on end.
Like this, maybe:
Hour one: you wander in under the neon sign into this room of brick, limestone and wood (sure, you knew it was reclaimed, but you probably didn't know it was once a snow fence from Wyoming) and cue up a mix of Allman Brothers and Velvet Underground on the jukebox. Your beer: mostly in cans, but they'll give you a koozie.
Hour two: you get the hankering for bar bites, and
they answer with deviled eggs
and fried pickle spears.
Hour three: curiosity gets the better of you, so you inquire with the bartender just what's on that top shelf that's only accessible via the ladder. The answer: rare stuff like Midleton Very Rare Irish Whiskey and Michter's Single Barrel Bourbon.
It'll be spring before you know it.