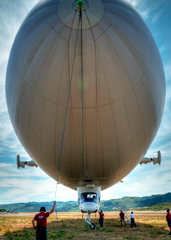 You know the type.
You've climbed Everest. He did it with a Sherpa on his back. You were at Game 6 of the Finals. He accepted the trophy because he owns the team.
But now, we're helping you turn the tables. Because while he took a helicopter over Texas... you're taking a zeppelin.
Meet
Airship Ventures
'
Farmers Airship
, a massive zeppelin taking reservations now for tours over the skies of Fort Worth and Austin through October 2.
This is one of two zeppelins in the world flying commercially today—at 246 feet, it's a little longer than your standard Boeing 747. (But with a little more leg room.)
You'll book your seat online. Then you'll head west to the Fort Worth Alliance Airport, where you'll do a quick security check and jump on. Your ride has 12 leather seats, 360 degrees of windows and an open cabin where you can talk to the pilot.
As the zeppelin lifts off, you and a date will want to settle into the back seats for panoramic views of the stockyards at 1,000 feet. As you cruise over Cowtown's skyline at up to 75 mph, you can open the windows and let in a little breeze. After around 90 minutes of floating, you'll start your descent and the flight attendant will pop a celebratory bottle of champagne.
Don't spill any on your bomber jacket.