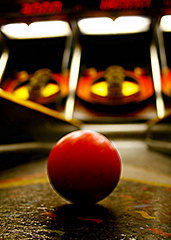 We like the way you roll.
Such form. Such power. Such style.
It's no wonder that both Dave and Buster consider you a close, personal friend.
But now your legendary skee-ball prowess needs new challenges... and more beer.
Enter
The Chicago Skeeball League
, a new bar sports league rolling into town with a Wednesday kickoff event.
We'll give you a moment to compose yourself.
The timing, you'll admit, is rather perfect. Your synchronized lawn dart team just wrapped its season, albeit with a note of tragedy (for the record—someone brings a ferret, they assume a certain risk). It's still months before competitive parking-space shoveling begins.
So this Wednesday, come out, have fun. Roll a few frames. Pair up for an ad hoc tourney—it's nothing too serious, though Bears tickets will go to the winner. (So, kind of serious.)
But mostly, it will be the first of a few meet-and-greets before the eight-week season begins in mid-October. This party gives you a feel for your new equipment, a chance to find a couple teammates and an opportunity to decide on an appropriately terrifying team name before the regular season. Beer, we hear, may also be heavily involved.
Because it's never too early to start training.