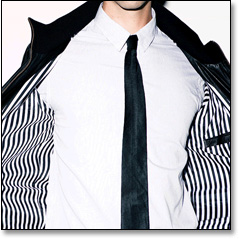 Now that we're at the peak of the summer, your weekend standard jeans and t-shirt can be downright stifling. Not to mention a little too 2008. It might be time for something new. Or better yet, something old…
Introducing
Lova
, under-the-radar for the last few months, and now your new source for suitably retro summer wear and general poolside dapperness.
Lova is an LA-based line with a serious jones for old-school production (everything is made in LA), slim-but-not-too-slim silhouettes and updated
Mad Men
digs. Show up at a beach house wearing this and you'll be comfortably placed somewhere between 1950 and 1964. The large-check gingham will fit right in with pool drinks, and the lightweight cardigans should let you dodge sunburn without losing too much of the sea breeze. 
The Camelot look
should bring back a few memories
—think thin lapels, bowties and tiny collars—but there are enough curveballs to keep things exciting. Exhibit A: the Hefner-esque sharkskin shawl collar jacket you'll see in the website's poolside video. Exhibit B: the fall line that takes inspiration from a communist immigrant living the good life in the capitalist West. Exhibit C: the name, which just so happens to be Serbian slang meaning "cash money."
Which is just how you'll look. We think so, anyway. Our Slovak is a little rusty.