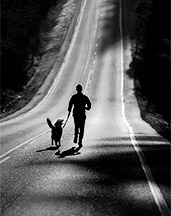 Consider a Greyhound.
Sleek. Agile. Makes good money by going fast.
In other words, it's a lot like you.
(To clarify: we're talking about the dog breed, not the bus.)
Introducing
Jogs for Dogs
, a website matching dog owners with people willing to act like personal trainers for their pooches, online now.
The site's basically social networking for runners and dog owners. You'll pay a $9 monthly fee to upload your profile, noting your name, age, location and any other relevant details—this would be an excellent spot to mention the time you filled in for that malamute with shin splints during the Iditarod.
Owners then peruse runners' skills and talents for free (it launched in Chicago yesterday, so there's not a big field of competition). They decide who is the most likely person to bond with their hyperactive Old English sheepdog, overweight weimaraner or marathon-training yorkiepoo. You'll be in charge of setting your own fees and schedule with the owners.
The bottom line: you'll get paid to run with someone else's dog. Plus, there's the upside of four-legged companionship.
It often leads to more leggy companionship.