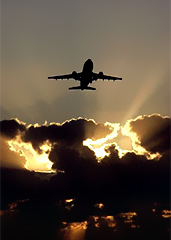 We've seen your future, and you're flying.
On a plane. Definitely on a plane.
But before you get a ticket for vacation/the holidays/your annual Halloween hot tub party in Ibiza (costumes mostly required), we wanted to offer some potentially life-altering help... in the form of a search engine.
Meet
MileWise
, a flight-finder that brings all your richly deserved reward miles and points together in one place, online now.
It's basically Kayak meets Pandora meets good old-fashioned bartering.
You'll come here when you've got a huge amount of miles and points racked up from your occasional "business trips" to Vegas (nothing closes a deal like poolside blackjack), and you want someone else to suggest where to spend your next vacation.
Let them know whatever rewards programs you're a part of—frequent flyer miles, free sub clubs, whatever—plus, when and possibly where you're looking to fly. Then, they'll bring you a color-coded list of flights, each rated on a 100-point scale for price, lack of layovers and how many more rewards you'll get. At that point, you'll pick out your favorite route to Ibiza.
And begin pondering creative Halloween eye patch placement.