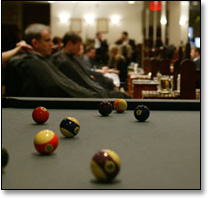 Shirts—Barneys. Shoes—Gucci.
Dinner—the new French-Peruvian-Nouveau-Pan-Asian Jean-Georges restaurant.
But when you need a haircut, you're still heading to Dramatics NYC.
It may be time to experience
John Allan's
salon, whose signature "full service" cut ($65) is much more than a buzz and blow.
First, an alluring attendant escorts you to a plush leather armchair for a scalp massage and hot towel. Then a frosted mug of beer appears along with an expert stylist who runs her fingers through your hair in a way that kind of makes you forget about the haircut. Another fetching staffer provides a manicure and a hand massage (don't worry, Junior Soprano gets them here too); a shoe shine is also included.
The lounge-like space invites lingering with a classic billiards table and prohibition-style mahogany bar where members ($695/year for unlimited full service cuts) can stash private bottles. Compulsive multitaskers can reserve haircuts in the cigar lounge.
Sure, this all might be a little much for a haircut. But as the attractive female staffers hand you another beer, you may decide that you'll be coming here long after you lose all your hair.