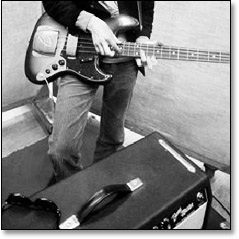 In a city as old as New York, most buildings have enough history to fill a museum, even if you wouldn't notice just from walking by…
One such building is Columbia Record's 30th Street Studios, tucked between 2nd and 3rd Avenues, where stars of all types holed up to produce legendary albums like
Highway 61 Revisited
,
West Side Story
and
Kind of Blue
. The studio itself is long gone, but rock and roll never dies. At least, pictures of rock and roll never die.
And, like anything, you can get a piece of it if you know where to get it…
In this case, the place is 
In Session at the Columbia Records 30th Street Studio
, a landmark rock photography exhibition that gives you a chance to hang some of the most iconic prints in pop culture on your wall, opening Friday.
Just stroll down to Prince Street with your usual following, grab a little wine to occupy yourself and check out the candid black-and-white shots of Miles Davis (for the kitchen, presiding over your experimental cooking ventures), Tony Bennett (to hang on the path to the bedroom, naturally) and Bob Dylan (above the hamper). The photos are limited-edition and some are even signed, so you'll have a chance at something more memorable than the average snapshot.
Not to speak ill of your Facebook pictures…