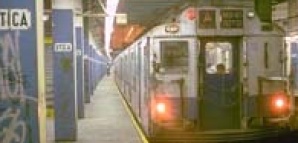 You're obsessed with the subway. You own three copies of The Taking of the Pelham 1-2-3, think Money Train was the Citizen Kane of its generation and your favorite love scene is the part in King of New York where Frank White gets amorous on the N line.

But behind all the hype, there is a painful reality: you have no idea how to get anywhere—whipping out a poster sized subway map is not an option. Hopstop.com, however, may be.

The site is like a mapquest for the train—type in an address in New York and it generates door-to-door directions (you can also select a "fewer transfers/more walking" option).

If you're out and about you can also text your coordinates to Hopstop (you first register on the site). Directions are delivered to you in seconds back to your phone via text or email (voice recognition software is currently being beta-tested).

Hopstop also allows you to select departure times and craft your trip to include bus routes...but, well, let's not get carried away now.