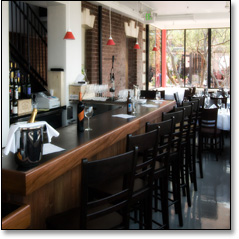 Like a true San Franciscan, you make it a point to avoid areas where out-of-towners dressed in Alcatraz fleeces might outnumber locals. So it's been a while since you last visited Ghirardelli Square.
We're here to tell you that it's safe to go back.
Softly open now, with the second-floor restaurant fully opening Friday,
Marché on the Square
's gourmet market/wine bar/bistro represents the next phase of the Ghirardelli Square rebirth—into what some are now dubbing, ahem,
Lower
Russian Hill.
With 100 wines (60 French, 40 California and New World, 25 by the glass), five champagnes and soaring views of the Bay, you won't have to try too hard to appreciate the vibe here. The accommodations even include a gluten-free beer from Belgium, "Green's Dubbel Ale," making this perhaps the perfect place to meet up with all your vegan drinking buddies.
Take in the airy décor from a stool at the cast-iron-topped bar, or head upstairs for a better view of that island prison—the Cal-French menu is served in both spots. Start with
Spiced Sauteed Diver Scallops
, then move on to
Steak Frites
and finish with a made-to-order crepe or cheese plate—you'll like the rich, buttery triple-cream Brillat-Savarin.
You'll still be sharing the place with a few tourists, so bring a date, or make it a double date.
After all, there's safety in numbers.