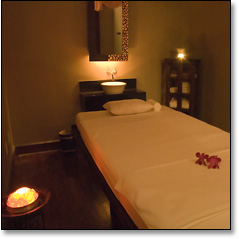 You've never been opposed to a good massage, but it's never been that life-altering either. 
Most likely because you've only been massaged by a paltry two hands at once.
Allow us, then, to open your world to the sheer delight of the
six-handed massage
, a little-known secret available to those brave enough to ask at Thai Privilege Spa in Soho. 
If you're not sure you read that correctly, let us say it again: six hands, three women, 75 minutes of bliss. But before you dive in, be warned: The
Siam Nirvana
massage (the official name) is not for the faint of heart.
Start by making your reservation at least 48 hours in advance, and when the day arrives find your way to the second floor spa quietly lurking on Spring Street. Pleasant greetings and ginger tea are all part of the calm before the storm. And then the symphony begins. The three expertly trained therapists work in chorus to create a sensation your body has never known (a rare feat). Fingers and hands move every which way, massage every muscle, and before you know it, all you can feel is an indistinguishable arpeggio of movement taking your body to unknown (or almost unknown) heights of pleasure.
You'll walk out of the spa feeling not quite sure what just hit you (and we mean that in the best possible way).
Which goes to prove that in the massage game, less (hands) is definitely not more.