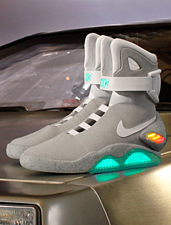 The news we've got for you today is pretty huge.
We don't want to put a figure on it, but let's just say...
1.21 gigawatts huge.
After 22 long years of burning desire and development, the
Nike MAGs
, Marty McFly's awe-inspiring shoes from
Back to the Future Part II
, are a reality and up for bid from now through Sunday.
You remember the scene: Michael J. Fox travels to 2015 to save his own kid from jail. Doc Brown gives him a pair of shoes. They looked, well, weird—because it was 1989, and neon was a thing back then. And they still do, but in an alluring way. Plus, the money made from the auctions goes to Parkinson's research.
The shoes have space-age materials (something described as "electroluminescent") and LED lights you'll turn on using a button hidden on the ankle. (No, they don't self-tie, but rumor has it they will... by 2015.) It's pretty obvious when you'll need these: for magnificent date entrances, leisure drives in the DeLorean or when you finally score that Daft Punk video walk-on role. So, maybe never. But still,
it's the shoes from
Back to the Future.
Hoverboards can't be far off.
Note:
<a target="_blank" href="http://www.back4thefuture.com/">Nike MAGs</a>, accepting bids now through Sunday <a target="_blank" href="http://nikemag.ebay.com/shoes">here</a>