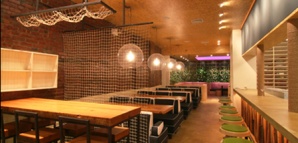 Cocktails are a crowded field these days, and it takes a lot to make us raise an eyebrow. Or even an eyelid.
But if you're pouring cider three feet from bottle to glass, our eyes will be wide open.
Welcome to
Macondo
, a haven for Latin street food and playful drinking from the folks behind
Rayuela
, opening softly this Wednesday.
The draw this time around is a range of communal Latin drinks, like sangria served in fishbowls, the
Quemada
(a Galician witches' brew that comes out in full flame) and the
porrón
, a glass pitcher that pours straight into your mouth.
And, of course, that cider. The pour through the air releases all the bubbles at once, so when it hits your mouth you end up with a drink that's as foamy as good beer and goes to your head as fast as champagne. There's even a special platform
/DJ booth where you can show off your cider-pouring technique in front of the crowd.  (Think of it as your arena of cider excellence.)

For food, you'll have your pick of some of the best street food in the western hemisphere—also available through the taco-truck-style opening in the front—and a Brazilian juice bar that serves up cocktails and virgin juices.  But if you're heading inside, you'll want to stick to the green room in the back, an ivy-covered eden with a pleasantly glowing ceiling to top things off.

Just in case you need a break from all the flying cider.