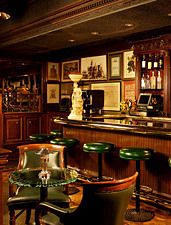 It's not every day that you get to eat yak.
Some days you eat piranha.
Others, boar.
And on occasion, all three...
Introducing
Private Wild Game Dinners at the Big 4 Restaurant
, a revamped, exclusive take on their legendary, decades-old wild game week, accepting reservations for dinners now through November.
Since they've been hosting an annual wild game week every November for nearly 20 years, chances are very good to very, very good that you've been to at least one.
Recall those extravagant nights of platefuls of exotic meats in the restaurant's hunting lodge setting, decorated with the likes of turn-of-the-century railroad tycoons in mind. Now take away all the diners you don't know and sub in 13 to 19 of your closest wild-game-loving friends, and that's what this night will be like.
Once the evening is set, we recommend starting early with a round of martinis at the piano bar decked with Gold Rush–era prints, before being led to your table set solely for your group in the Central Pacific Room. The menu reads like a laundry list from an Ernest Hemingway safari—you'll get to choose three courses, with dishes like Brazilian
piranha "ribs,"
wild boar carnitas and pancetta-crusted Himalayan yak being hits from years past.
Okay, maybe Hemingway didn't hunt piranha.