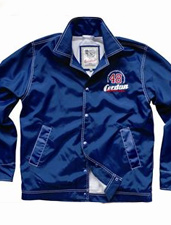 Quick, we'd like you to meet somebody.
His name: Marcel Cerdan. He was middleweight champion of the world in 1948. He lost his title to The Raging Bull. He dated Edith Piaf.
Also, he made you a new leather weekend bag.
Introducing
Cerdan Vintage Sportswear
, a handsome line of polos, training jackets and travel gear designed by a heroic French boxer of yore, available online now.
Now let's be clear: Cerdan is dead. Long dead. He died in a plane crash in 1949. But before he went, he had the good sense to get his wild-eyed ideas for your next pair of gym shorts on paper. Sixty-plus years later, his grandson has turned those designs into this. Which means that when you're filming your next Rocky-style training montage, you'll have a Frenchier alternative to a Rocky-style plain gray sweat suit.
We're talking the kind of leather and tweed duffel bags that Leo would pull his crazy dream kit out of in
Inception
, Joe Louis–worthy vintage boxing shoes and, of course, moleskin blazers with the subtle seal of the middleweight champion of the world on them.
Dress for the job you want.