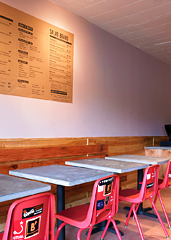 Sad note: the days of buying gray-market pastrami sandwiches in an alley off Howard are over.
Happy note: the same pastrami sandwiches are now available in an actual deli.
Welcome
Deli Board
, an aboveground safe house of a deli slinging Midwestern
stuffed sandwiches
, pastrami by the pound and New York bagels, open today in SoMa.
When a soup-and-sandwich catering kitchen quickly exploded into a back-alley sandwich peddler where you ordered from the stoop, you were there. But so was the law. And this budding rogue empire was shut down. What you see here today is the new, more civilized result.
Essentially, you'll be able to walk inside (already a refreshing change from before), order and sit down to eat. But don't expect a huge departure from before, as the decor is somewhat along the lines of an alleyway parklet, with concrete-topped tables, redwood-planked banquettes and graffitied chairs.
Now, it's a given that you'll come in at lunch for a pastrami/corned beef
Boca
or brisket-stuffed
Munsoned
. But you can also get the
Bubbees3
(chicken, tuna and egg salad on greens) or pick up corned beef by the pound.
And as far as breakfast goes, they're flying in bagels from New York.
Another happy note.