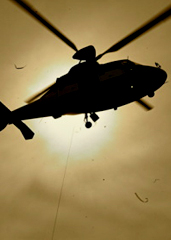 Shooting hogs from a helicopter: now legal. (Hey, if there are 2 million feral pigs in the Lone Star State, you have to do something.) Now, we're not saying you
should
do this, we're just saying you
can
. So here, two of your best options close to home. The state is counting on you.
The Training
Vertex Helicopters:
One day of classes, with four hours in a classroom and four in the chopper.
Cedar Ridge Aviation:
A 10-minute conversation.
Edge:
Vertex. The military-trained pilots should get you plenty ready to battle Miss Piggy.
The Experience
Vertex:
You'll fly all over the state with a former military pilot.
Cedar Ridge:
Two days of hog hunting at a West Texas lodge.
Edge:
Cedar Ridge. A weekend of shooting and post-hunt bourbons with a man who once gunned down 500 hogs in a day. It's like rolling sushi with Nobu.
The Legal Connections
(just in case something goes haywire)
Vertex:
Strong ties to the US military.
Cedar Ridge:
They lobbied for this bill in Austin.
Edge:
Cedar Ridge. Dustin, the owner, monitored the Pork Chopper Bill through the entire process. We hear he has Mr. Perry on speed dial.
The Conversation
Vertex:
War stories from overseas.
Cedar Ridge:
Tales of pig hunting in Knox City.
Edge:
Draw. On the one hand, the Vertex guys served in Germany and in Desert Storm. On the other, Dustin's been hunting hogs since he was 6. It's a win-win...