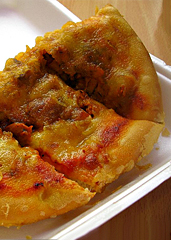 Once upon a time, in a distant land—call it "Naples"—there was a man with a dream.
That dream: to become Italy's most beloved knife juggler.
His other dream: moving to Texas and serving fried pizza from a truck.
Presenting
Gennarino's
, your first taste of the coming friggitoria revolution (note: it involves fried pizza dough), rolling out this weekend in Las Colinas, Irving and Fort Worth.
First, we'll translate: friggitoria is roughly Italian for "street food shop." (Say it with us—
frigg-uh-TOR-ee—uh...
)
Now, meet Raffaele. Born in Naples. Three years ago, earned his pie-tossing certification. So naturally, his next move was to pick up his life and bring his two brothers (who also happen to be pizzaiolos) to central Texas.
After commandeering a truck, he's nearly ready to bring you fried pizza curbside. Just one thing remains: painting the truck with buildings and trees from Naples.
Once he's done, you'll
track them down
on Twitter. Let's say they're in Las Colinas—and conveniently, you're presenting your new retail concept (Cereal Bowl, a bowling alley that only serves cereal) to Goldman. Fuel up at the truck with a
Pizza Fritta
(fried pizza dough topped with marinara sauce and mozzarella), some
Timballi
(fried fettuccine alfredo) or maybe a
Grandma's Sunday Gravy
(a pork/beef/meatball sandwich topped with tomato sauce and mozzarella).
Also good on days besides Sunday.