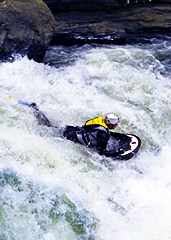 Let's talk Big Sky Country.
Size: obviously. Blueness: of course. But not enough people talk about its opportunities for face-first, high-speed water riding.
And that's where you come in.
Presenting
Montana River Guides
, the team behind a guided riverboarding tour where you'll dive headlong into the whitewater rapids of Montana, disembarking now.
Consider this summer's last stand. But before we get to that—riverboarding: basically boogie boarding with a thicker board, a helmet and an eight-hour wave. You'll start by traveling to Missoula via plane, sponsored dirigible or spirit guide. Then head about 30 miles west to Alberton, where you'll wetsuit up and do your best to channel a combination of Tony Hawk and Huckleberry Finn. Both of whom loved wetsuits.
It'll all go down in Alberton Gorge, which, for your purposes, is where a river runs through it. "It" meaning several miles of ancient ice age flood-carved canyons where you'll glide by wolves, bears and eagles through the Anaconda-Pintler mountain range. Guiding you: the people who basically invented riverboarding in ancient times (1994), who'll teach you how to use your various appendages to navigate the best parts of the river. And along the way, you'll of course stop off on the banks for a shore lunch.
Just remember to wait 30 minutes before going back in...