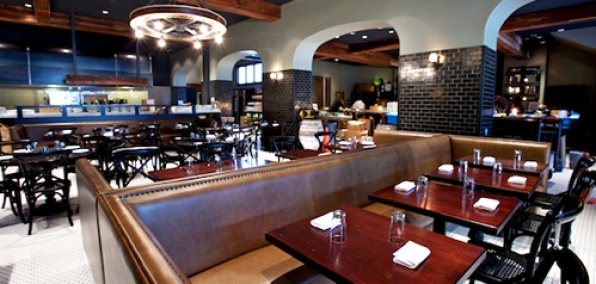 Sure, there was a little storm back east.

But here we're finally trading fog for sun.



And we think some alfresco drinking and dining is in order.



Here to help: Park Tavern, a sleek new indoor/outdoor cocktailing brasserie-sister to SoMa's
Marlowe, opening Thursday on Washington Square.



You'll first be taken by the sidewalk seating and window-doors that open to the park, but the year-round
draw will be the shelter you'll find in potent cocktails and hearty pub fare like wood-oven-roasted whole
fish.



You may recognize this as the former Moose's space. But beyond a stray bar stool and a table dedicated to
the Mooses, it's a complete changing of the guard, with a
massive Carrera marble bar, wagon-wheel light fixtures and barn wood beams.



As you move inside toward the dining room and slip into a tufted leather banquette under the exposed-beam
ceiling, you'll definitely get the black-and-white tiled, classic brasserie vibe. Which makes the burger
(yes, the same one from Marlowe) and the brussels sprouts chips seem like the right choice.



But you'll also find some house-smoked beef jerky and fried oysters that are worth exploring.



As house-smoked beef jerky always is.