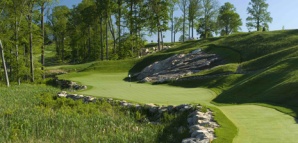 Heading into the holiday weekend, most people think stars, stripes, fireworks and barbecues.

Not you. You'll take eagles, birdies, pars and bogeys all weekend and twice on Sunday (especially twice on Sunday).

You've played Bethpage. You've played Shinnecock. Let us present the next great New York golf masterpiece: Pound Ridge Golf Club, Pete Dye's new stunner in Westchester, is set to soft-open this weekend—and it's public.

A short one-hour drive up the Merritt (the ride back may feel longer depending on that last putt), Pound Ridge is a long, challenging course nestled artfully into the hardwood forest and granite of Westchester.

But be prepared, this is the first New York golf course from world-famous mad scientist Pete Dye (you may know his work from TPC at Sawgrass and its famous island green 17th hole), and he's certainly left his mark. Postage-stamp greens, undulating fairways and swashbuckling tee shots abound. We're big fans of number 15, a short par-3 where you hit over wetlands onto a green carved out of a cliff. And number 13 is a par-5 beauty with an 80-foot rock cliff running the entire length of the hole.

But as usual, our favorite is the 19th.