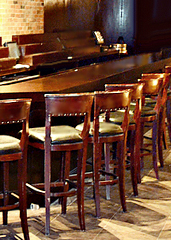 Looks like we're going to have to ride this one out.
We're thinking someplace made of stout oak, with lots of TVs and booze in mason jars. Hard hats may be involved.
We're thinking about
Mason Inn
, a new Southern-styled sports bar kicking things off with a soft-opening tomorrow night.
If you've ever wondered why you can't dance on tables and chairs amid photos of Archie Manning, Bear Bryant and Tim Tebow, wonder no more. Built on the bones of the famously divey Grog & Tankard and Gin & Tonic, the room has been dressed up with a faux fireplace, skylights, nine huge TVs (including a 100-inch projection screen) and a 52-foot bar of Southern oak, whose eight taps pour beers like Shiner Bock, Abita and Lone Star.
As they're still putting the finishing touches on the place, they'll be issuing hard hats at the door for Saturday's party (also useful if Irene should hurl a fence post in your direction).
But next weekend, you'll want to settle in for college football (they specialize in SEC pigskin here) and nosh on burgers and wings, along with drinks like John Dalys and
Mambo Sauce Bloody Marys
.
And if your Saturday afternoon should bleed into Saturday night, stick around for the honky-tonk-style debauchery, fueled by live country-rock bands on the stage in the front window.
Yes, the booths are made extra sturdy to withstand dancing patrons.
No, Tebow would not approve.