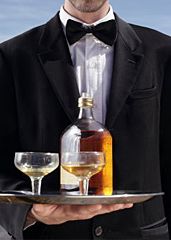 So you survived "The Little One."
And while we're at least 61% sure it's safe to come out of that door frame, we'd recommend sticking to wide-open spaces until we know for certain the earthquake's over.
We'd also recommend the use of a butler.
Putting it all together:
Picnic Host
, a welcome third wheel/picnic majordomo who'll reserve you the best real estate in Central Park, available now.
As coincidence would have it, Central Park happens to be hosting their annual outdoor/low to the ground/away from tall buildings summer film festival this week (the theme: music movies). A really good time to dust off your long-dormant picnic skills. And a really great time to hire someone else out to do the whole thing for you.
To start, contact the Andaz 5th Avenue, tell them you'd like a picnic butler and tell them you'd prefer he answer to the surname Belvedere. Next, order up a custom basket—throwing in supplies like fresh cut fruit, paper-thin prosciutto, a bit of osetra caviar and a chilled bottle of champagne.
You'll exchange cell numbers with the host, he'll run ahead to secure the perfect spot (unobstructed oak-tree-shaded seating), and when you arrive, you'll find everything set up to your exact specifications. When the movie's over and your picnic is done, the butler will return to clean up your mess.
And fend off any blini-seeking squirrels.