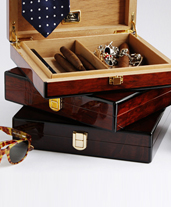 Sometimes, you don't know just how badly you need something until you see it.

For example: Maria Bello. Or: a good axe. Or: silk neckwear from a Royal Warrant holder to the Prince of Wales.


Allow us to help you with two of those...

Presenting Sir Jack's, a new Boston-based online purveyor of the kinds of bespoke ties, accessories and bric-a-brac the modern gentleman requires, officially launching tomorrow.

Think of this as your new friend for making a few unnecessary-but-totally-necessary purchases to enhance your lifestyle's overall F. Scott Fitzgerald-ness (by the way, you still need to finalize the guest list to your annual Gatsby Labor Day bash).

What you'll find here: handmade silk bow ties from England. Straight razors with handles made from buffalo horns. Facsimiles of bartender manuals from 1900. Even a vintage JFK coin bank (it'll go well next to your RFK reading lamp).

And since you never know when you may need a dependable knife (camping, whittling, Chinatown on a Saturday night), you'll also find pocketknives made by the same cutlery firm that supplies the British Army.
No, you don't have to extend a pinky while using one.