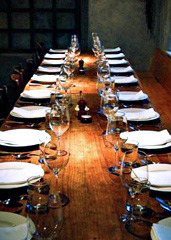 There's a level of reckless abandon the weekend leading up to a long weekend.
It's like the rehearsal before the real thing. The storm before the storm, if you will...
So you'll want to keep this Sunday open.
Introducing
Stag Dining Group's Rising Sun Dinner
, the latest whiskey-fueled underground dining experience taking place in an undisclosed SoMa locale on Sunday.
Copious amounts of whiskey on a Sunday night might not sound like the best-laid plan. But since they're putting the dinner on anyway—and they went through the trouble of getting the mixologists behind Cocktail Lab to concoct whiskey cocktails and Exile to DJ—the least you could do is show up. Whiskey, be damned.
Because you're no stranger to such clandestine affairs, you'll be familiar with the basics—like not knowing the off-the-beaten-path locale until the day of and getting acquainted with your fellow dinner companions around a communal table.
So, first thing this Sunday, you'll get an email with the locale. Once you arrive, they'll fill your glass with a generous pour of whiskey, and you'll be good to go. And since whiskey in Japan is as prominent as sake (after all, you've seen
Lost in Translation
), this five-course dinner prepped by two Alembic vet chefs will highlight Japanese-inspired dishes like
Steamed Scallop Mousse
with liquid sea urchin and bacon-wrapped enoki as well as miso-grilled Wagyu.
Consider yourself on track for Labor Day.