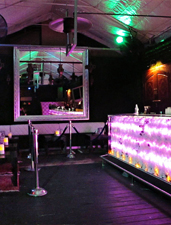 Well, it's almost dead.
Summer 2011, that is. Not your pursuit of new open-air forums for drinking and merriment.
That's eternal, from what we understand.
Speaking of which: welcome to
Rosebar at Current Sushi
, a new four-season fortress of rooftop champagne-ing, now open.
You normally stop here for some after-work nigiri and crunchy eel rolls. And you can still do that. But now you'll want to stick around until 10pm, when you'll head upstairs through the lounge and up a few steps into an alfresco room reminiscent of a North African bazaar (only with louder house music). Huge Moroccan copper lamps provide some dim light, and giant doors and murals from Morocco hang on the walls of plastic greenery.
Option 1: grab yourself a tequila at the see-through bar, filled completely with faux white roses. Option 2: settle your group around one of the tiny cocktail tables (each placed on its own Oriental rug), as scantily clad waitresses bring you bottle service of gin and champagne.
Right now, they've got giant fans up there to mitigate some of the steaminess, but you'll be coming back when it's cool out thanks to heat lamps and a retractable awning. Which means it's an option for your fall happy hour birthday fetes, which you can have catered by the sushi chefs downstairs.
They're Japanese, not Moroccan.