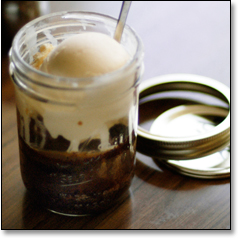 Message in a bottle, dick in a box—history is filled with everyday objects becoming legend through simple repackaging.
Thus we present to you:
Cake in a Jar
.
The next-generation dessert is now slyly being served at the 101 Coffee Shop—Hollywood's version of a classic truck stop, where you keep it real with greasy standards next to bohemians in authentically grungy T-shirts…and CW stars who paid $120 for theirs. To claim your glass-enclosed delicacy, shuffle up to the counter and order some coffee and one of the mysterious-looking mason jars on a tray, where closer inspection reveals the cake already inside. (Through a technique 101's new pastry chef picked up from a dessert sensei in Chicago, the cake is baked
in
the jar, in a water bath to ensure it's cooked through.)
Topped with pecans, caramel and vanilla ice cream, the jar of chocolaty goodness has several benefits—not least of which is the way it can all be spooned together into an impressively rich cake soup. And should you want to re-create the concept at home, the jars are airtight, ensuring fresh cake for days to come.
Though, honestly, you probably won't need that much time.