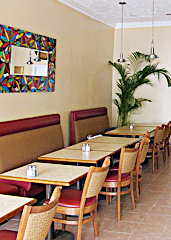 Let's set the scene.
You're on U Street this Saturday night. It's exactly 2:45 in the AM, and you've just put your final finishing touches on
DC Beer Week
(either that, or it was going to finish you).
What you'll be craving: something low-key, but with just enough spice to give you that endorphin kick to get you home. (Note: this may not apply if someone is tugging on your arm.)
Your solution:
Jamaican Joe's
, a just-what-the-doctor-ordered outpost of jerk chicken, now open (until 4am on weekends) amid some of U Street's best bars.
Now, this is a pretty unassuming little spot—two small rooms, some bright green paint, some strategically placed bamboo and palms. But you're not here for opulence—you're
here for chicken
. Specifically whole chickens, cleaved into small pieces and slow-roasted till they're smoky and spicy, with a long, slow burn on the back of your throat.
You can order up a half-dozen wings, too, or avoid the burn altogether with stuff like plantains, sweet potato fries and coco bread.
Insider tip: there are a couple bonuses to be had here. First, show up at the right hours (usually after 10pm on weekends) and you'll find live reggae bands or DJs. Second, any chicken order comes with a gratis scoop of ice cream, in flavors like coconut, guava and rum raisin.
There's no nightcap like a frozen rum raisin nightcap.