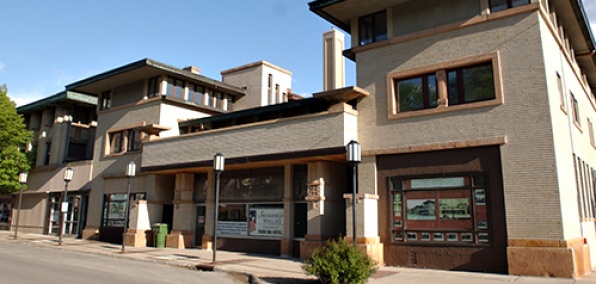 Forget everything you know about Mason City, Iowa.

Yes, even the fact that Meredith Willson, the man behind The Music Man, was from there.

We know. It's like trying to think of Hoboken without Sinatra.

But try. Just for a second.

Now, imagine this: a striking piece of American architecture. A weekend of gallivanting inside of it. You're the one doing the gallivanting.

What you're seeing is The Historic Park Inn Hotel, a stunning Frank Lloyd Wright commission that was reborn last week after a massive $18 million renovation, ready to host your dream vacation to the middle of nowhere. You have your reasons.

Actually, Mason City is between Minneapolis and Dubuque. Wright was summoned here in 1907 by two lawyers who needed new offices... and what the hell, throw a hotel and bank on the tab. The place opened in 1910. It had some good times, a few laughs, but by 1972 it was kaput.

This renovation brings back the glory days. There's a ballroom, a restaurant and a bar. Sure, 26 guest rooms have a Prairie School aesthetic, but from an undiscovered wing of the School that includes wi-fi and whirlpool tubs. Consider reserving the Historic Room, a facsimile of a 1910 hotel room. You'll slumber on an antique brass bed and soak in a period claw-foot tub.

Unfortunately, claw-foot hot tub technology was still years away.