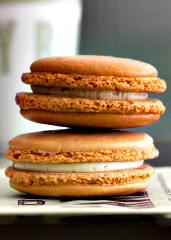 Last weekend: you can't even talk about it.
This Wednesday: you can't even talk about it.
Okay, fine, it involves cookies.
Because, yes, Wednesday's the day when Thomas Keller's long-anticipated bakery finally debuts with espresso, quiche and all the sweet baked goods you can fit in your car—
Bouchon Bakery
is (nearly) here.
You'll find it on the ground floor outside that big courtyard park off Canon—next to Bouchon's little indoor-outdoor bar, under the actual restaurant upstairs. It's an intimate spot that looks like a classic neighborhood boulangerie—though the neighborhood in question is now a bit west of Paris.
So in just a few days, you'll come by the counter with the paper in the morning for an Equator espresso and a pain au chocolat outside in the sun. But you'll also want to give it heavy consideration for your next intense lunchtime quiche craving.
And we suppose we should tell you about that counter. It'll be full to overflowing with a changing mix of cookies... and croissants... and tarts... and coffee cakes... and all sorts of French finery involving carbs and sugar.
Your second favorite kind of French finery.