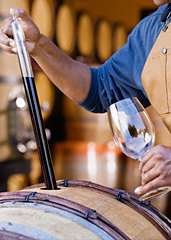 You've been known to dabble in the home-improvement arts.
There's the leather couch you reupholstered. The ice sculpture of David you chiseled. The beach towel you folded.
And now: the wine bottle you designed... with your face on it.
Meet
Two Corks and a Bottle
, a custom winery where you can create your own bottle of the good stuff, now open in Uptown.
This is basically a mini wine manufacturer, ready to mass produce your own personal vino. (Global marketing plan and VC money not included.)
Your painstaking research starts with a taste of everything from syrah to riesling. Next you'll pick your favorite flavors to create a perfect combination of oakiness and smoothness. And then these two wine-loving gents will concoct the actual vino.
They'll set it aside for five to seven weeks while it ferments. While this happens, your brand consultants (okay, just you) will design the label for the wine bottles. (We're thinking an oil painting of you, splayed shirtless on a couch, Costanza-style. Oh, and you're a centaur.)
Once the fermentation process is done, you'll return with your friends, family and any other oenophiles you meet along the way to bottle, cork and label 29 bottles of your own vintage.
And at some point, we're pretty sure you get to drink it.