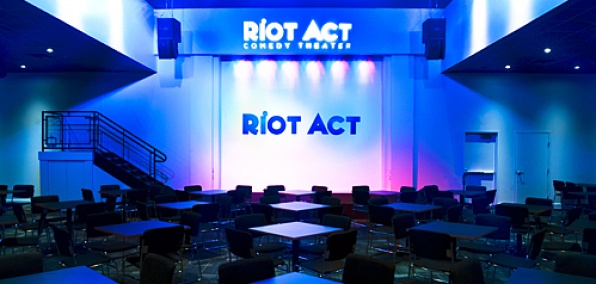 You're going to laugh tomorrow. We can feel it.
Now, sure, this might involve Harry Reid hitting the Senate floor in a chicken suit.
But more likely, it will involve
Riot Act Comedy Theater
, opening tomorrow to bring a roster of comedic talent to Penn Quarter.
Bottom line: this huge, belowground space may be the biggest room you've ever seen dedicated to the art of cracking jokes.
But back to that in a minute. Upstairs, you'll find a bar, and you don't even need to have a sense of humor to drink there. Open every evening,
the bar has bites
like spinach dip and crab mac and cheese, more filling stuff like stuffed shells and, in case the show's sold out, closed-circuit TVs to watch the acts.
But since you had the foresight to buy tickets for the usual 8pm (and 10:30 on weekends) show in the massive, 330-seat room downstairs, you'll have the same menu for acts by the likes of Comedy Central's Nick DiPaolo, Judy Gold and Dick Gregory.
Of course, if you'd prefer something a little... less polished, you can always show up for open mic night on Tuesdays to hone your heckling skills.
Or get up there and riff on the chicken and the road.