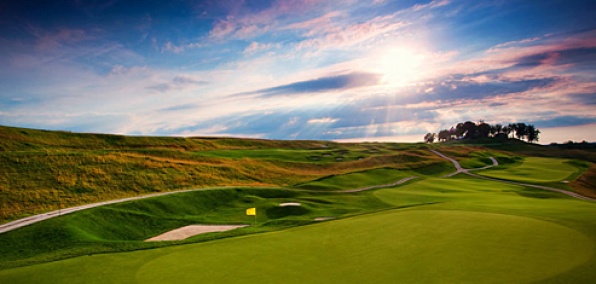 Today, we're taking you to Indiana.

Wait. Just hear us out.

It's National Golf Month, a probably made-up holiday—but one you can use to justify a golf-packed road trip through seven world-class courses.

... in Indiana.

Introducing the Pete Dye Golf Trail, a path of seven glorious sets of links designed by one of the world's legendary course architects, taking tee times online now.

If you've ever watched a golf tournament, you've probably heard of Pete. He's been designing championship (as in the actual PGA Championship) courses for more than 50 years and has a lifetime achievement award from the World Golf Hall of Fame. (You have that in common.) He also lives and got his start in Indiana, hence the trail.

You'll jump on the site, plot your tee times and where you'll stay, then head up to Culver, about 100 miles southeast of Chicago. There you'll take on Mystic Hills. From there, you'll head south through West Lafayette, play a few rounds around Indianapolis and, finally, finish down in French Lick. (Maybe you can partner up with Larry Bird.)

Along the way, you'll have played rounds on Purdue University's campus and at the Indianapolis Motor Speedway.

Where they sometimes have other sporting events.