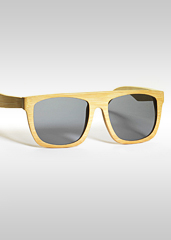 Forty-seven minutes.
That's approximately how much time you're not wearing sunglasses during a typical day.
Whether you're lunching at Michael's, taking the vintage catamaran out for a sail or working from your alfresco office connected to that luxury treehouse on your penthouse balcony, you're always wearing shades.
So we thought you should know about
The
Monocle Order
, a new members' club devoted to supplying you with stylish new shades for the rest of your life, online now.
It works as follows.
You buy a full-price pair of glasses on the site. This immediately activates your lifetime membership in the club, for which you'll receive a steel card. Your benefits: each subsequent pair you buy is half off (up to 12 pairs per year), plus you get access to private events and stylist consultations over Skype. (We suggest wearing the semi-tinted aviators for that conversation.)
You'll augment your current collection with rare frames from Australian and Argentine brands along with more established American labels like Retrosuperfuture. Think '80s-style Wayfarers to Tone Lōc–era flat-top shades with gold bands to oversized BluBlockers with amber lenses.
Yes, we said BluBlockers.