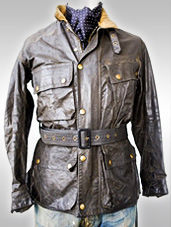 The Brits have gotten a few things right over the years.
Repackaging the blues. Wizard-based fiction. And, of course, getting dressed.
Today, we'll be addressing the third one.
Introducing
Grahame Fowler Original
, a bunch of handmade clothes and vintage gear brought together by an Englishman living and sewing in New York, available online now.
Since all the way back in 2010, Grahame's been putting his experience selling fabric to the likes of Ralph Lauren and Brioni to good use in his
New York shop
.
At the online version, you'll find his own brand of shirts and ties, but the best gear might be the vintage stuff he's hand-sourced. Like the same kind of jacket McQueen wore while tearing through the East German forest trails on his Triumph (only this one is even older). And the type of British Navy–issue Rolexes that Connery's Bond wore. You know... if you're interested in that sort of thing...
It's all the kind of stuff you'd wear through the thick fog of some unnamed moor. Possibly while slowly walking home from a pub (or maybe there are just a lot of moors where you live). Old-school workwear like '40s-patterned Levi's, waxed-canvas jackets and brogue boots. We see a labrador at your side, a pipe in your hand...
Hey, it's just an idea.