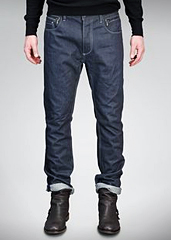 Alfresco cafés rich with the smell of smoke and espresso. The Piazza della Scala at night. Drinking wine for breakfast.
Italy.
You remember it. You can picture it perfectly.
But now... it's time to picture it draped all over your body.
Welcome to
Bottega Veneta
—that ever-elusive house of sterling silver cufflinks, Intrecciato (their signature pattern) briefcases and handmade Italian suitery, just landed on Buckhead soil, and open now in Phipps Plaza.
If you could literally wear Marcello Mastroianni, this is where you would go to make that happen. It's the kind of gear you'll want to have on standby for those long days when power brunch politicking and boardroom conquests could just as easily turn into sunset Negronis and other conquests.
So you'll head to Phipps and seek out a small, shiny black room splashed with dark wood shelves and cabinets shipped in from Italy—in fact, everything in the store (no, really) was shipped in from Italy.
And we lied. You'll actually find two things in the store that aren't from Italy: Lauri and José. But by the time they get done pouring you a glass of champagne and judiciously whisking you through nook after cranny of Nero Overdyed jeans, luxe cardigans and handcrafted, single-tear-inducing suits... you'll never know the difference.
Besides, you just cried over a suit.