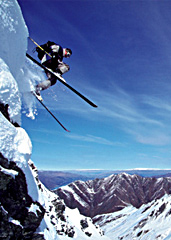 Listen. We have some high-level intel to share.
There are rogue, tribe-like groups operating in New Zealand's uncharted wilderness.
They have all the markings of a cult: compound-type housing, shared housekeeping duties, obsessive habits.
Though, come to think of it, the habits concern piste skiing. And since you asked: yes, they're looking for some converts...
Say hello to
The Snow Hunter
, a tour of the best private ski club fields in Canterbury, guided by locals and taking reservations now.
First: this club field business. They're ski areas that are part country club, part co-op. Dues-paying members share maintenance duties, and in return get near-private access to untouched backcountry powder. And for a fee, they're willing to show the public what zero wait time feels like.
That's where this outfit comes in. You'll arrive in Christchurch, and for the next, say, five days, your guide will choose the field with the best snowfall and get you there via 4x4. He'll teach you to use the nutcracker rope tows—named for the type of harness that pulls you along—and lead you to chutes and bowls only locals know.
Now, there aren't any slick gondolas or six-man chairlifts. And—there's no way to put this delicately—there will be some damn tough hiking to get to the runs. But with great risk comes great reward.
Maybe that's the cult talking.