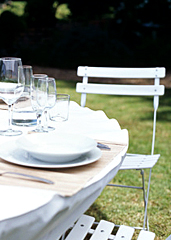 Let's keep this between us...
And up to three of your closest confidants.
Something big is brewing—something of historic proportions, actually.
It involves dinner, revelry and unheard-of quantities of white...
Behold
Le Dîner à San Francisco
, an underground dinner meets flash mob meets outdoor picnic, accepting reservations now for an October 14 feast.
If you've been to Paris's Dîner en Blanc, you've seen how this works: a wide-open patch of land one minute. The next minute: a couple thousand people appear, blizzard-like, wearing their whitest formal attire, carrying white chairs and white tablecloths. All for one indulgent night under the stars.
You'll RSVP, and then in a few days, you'll receive an invitation with a few more clues about the destination. As the "Head of Table," you'll be in charge of organizing your guests—who's bringing the tables, chairs, settings, food and drinks (hint: probably not red wine). Oh, and you'll need some white trash bags to pack everything out. (There's a strict leave-no-trace rule.) As for all the other logistics—roving street bands, for example—they've got it covered.
Then, within 24 hours of the dinner, you'll get an email disclosing the location. We're sworn to secrecy, but we can promise it's a place you know and love.
No, not the Golden Gate Bridge.